download as pdf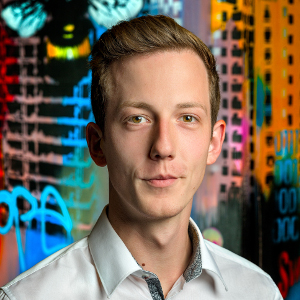 I'm a software engineer with ten years of experience in developing web applications. I provide technical leadership for small teams.
My favourite language right now is Go, though I've had a lot of fun in Python before that. You can wake me up at night to talk about decentralization.
I am and speak Dutch, but I get around with English as well. I currently live and work in India. I'm open to remote working and love travelling.
Skills
Software Development
Develop backend systems for web applications and services. I have experience with various languages, databases and frameworks. I know my way around microservices and scaling of large websites.
Contribute to frontend development: I am familiar with Vue.js, React, Angular, Mitrhil, CSS and other frontend technologies.
I write tests to make my code better. I use BDD and API contract tests.
Serverless is my state of mind, I developed application using Google Cloud Platform, Amazon Web Services and Azure.
DevOps: automate CI/CD pipelines, build docker images, and infrastructure is code.
Technical Leadership
Work with engineers to design and architect complex systems. Work with product owners to prioritize and plan features.
Interview engineering candidates.
Inspire developers, perform code reviews and establish best practices.
Communicate and document effectively.
Give talks and workshops on various subjects including Cloud Native Development, Go, and decentralization.
Experience
Volunteer
Coach @ DjangoGirls
Organised: 03-02-2018 - Amsterdam
Coach in Groningen on 25-05-2019, 03-11-2018, 04-11-2017, 20-05-2017, 12-11-2016, 23-04-2016, 19-09-2015, 21-03-2015, 22-11-2014
Coach in Novi Sad, Serbia on 24-10-2015
Education
Computing Science · Master of Science (MSc) · Software Engineering & Distributed Systems
Sep 2012 - Sep 2015, University of Groningen
Technische Informatica · Bachelor of Applied Science (B.A.Sc.) · Embedded Software Engineering
Sep 2007 - Jul 2012, Hanzehogeschool Groningen
Publications